Finding the best storage solution for your business is essential to keep your business highly productive. However, to ensure your business does not lack space due to the storage of documents, workforce, or business assets in your office, a storage solution is required for an efficient working environment for your workers. Here are the top practical and safe storage solutions for your business:
1.   Data storage
It is a storage solution where various technologies are used to take and retain digital information that can be easily accessible anytime. Using a data storage solution helps your business store data such as documents, audio files, presentations, databases, spreadsheets, and documents. However, when there is an expansion in your business, it allows backup software to retain necessary information while upgrading is taking place in your business.
2.   Cloud Storage
Cloud storage is a storage solution that allows your business to store data on a remote server. It requires the use of the internet to access the remote server. The cloud storage solution can be operated, maintained, and run by a service provider. With cloud storage in an aspect of an emergency like a fire outbreak in your business, the data store can be easily gotten without loss of information. Irrespective of your business size, it keeps your business safe at any moment. Also, in cyberattacks, data stored on the cloud is hardly accessible to an illegal attack. The cloud service providers ensure your data are highly secured with different layers of security to access their services.
3.   Storage facility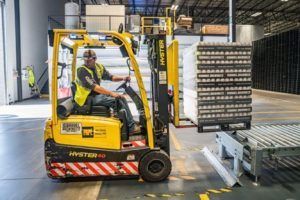 This is one of the most common storage solutions for most businesses dealing with physical goods. There are several storage facilities specifically designed for storing valuable goods and resources that are not needed at that moment. However, when choosing a storage facility for your business, ensure that it is located in a space that has room for expansion, as needed. As a business owner, when your company has a storage facility, it ensures maximum safety and better organization. Some common types of storage facilities include containers, warehouses, and removal depositories.
4.   Professional record management services
A professional record management service is a type of management service that allows storing documents at a secured site. If your business can not afford a storehouse to store documents, record management services can assist your business in providing safe storage for all business documents when needed. However, this secure storage solution is an excellent method for small, medium, and large businesses to record files and documents required to be stored.
5.   Portable storage
A portable storage solution is essential for a business to reframe their property while staying at a particular location. Retail stores and construction companies mostly use this storage solution.
For instance, when a construction company is at the construction site, they can use portable storage to store equipment and tools safely. Also, you can use this storage solution to store files and records in the office.
A storage system is vital for a business to be successful. When these storage solutions are applied in your business, it creates a safe, systematic, and well-organized working environment.