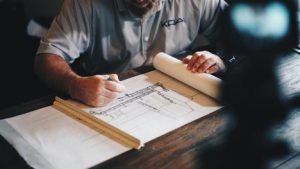 So, you want to begin a construction project, and there are so many details that need taking care of that your head hurts. It is a long and stressful process, and every step of it is crucial to its success. Whether it is just a small house renovation or a big community lot, you need to be well aware that you need to do a whole set of preparation before even beginning to think of starting construction. Here is the information that you need to collect.
Consult the Professional and Find Your Purpose
The first thing you need to do that will save you a lot of anxiousness and stress is hire a contractor that will help you put all the affairs in order, and that will be your consultant every step of the way. You should always ask around for other people's experiences with them to make sure that they will do the project conscientiously and professionally. Under no circumstance should you forget or decide not to draw up a contract. Consult with them and decide the type of building you want and what is the best way to proceed from that point.
Safety Checks
This step is probably most important for the whole project. Environmental inspections and topographical surveys will help you decide if the lot you want to build is suitable and safe. Don't forget to investigate the soil you are building on, as some types wouldn't be able to hold the whole construction, which means that it is at the risk of collapsing. Survey with the people in the area to see their perception of the upcoming project. In some places, it is legally required to do so.
Connections and Access
You need to check if your lot has fixed access to the road and if it has clean water and electricity. If it doesn't fulfill even one of those points, the site is not suitable for building. There is no point in choosing a location that your construction workers will have difficulty accessing. Having the additional stress of introducing utilities will complicate and prolong the whole process. If needed, also take the time to clear the area around the site, as it will make the construction easier.
Project Manager Plans
All the planning should be done before the start of construction. Don't leave anything to chance and make every step of the building process clear and well-timed. Hire a person to look over the construction when you are personally unable to do so. Time is money, especially when larger or commercial buildings, as lazy workers or even the smallest unpredictable mistakes, can lead to huge delays and catastrophes. Look over the plans multiple times and share them with the whole crew to make sure there are no omissions and that everybody knows how to do their own part.
Check If All Legal Matters are in Order
All legal matters should be in order well before the construction starts. Most of the projects will require obtaining permissions from local councils. It is common when doing work on the building exterior. Check all of the rules and regulations of the area you wish to build on. Some of them have a specified time when the construction can be done because of the noise and the disturbance that it could cause to the neighbors. Permissions, approval letters, and even endorsements should all be in place before the building process, as the delays that they may cause can ruin the whole process.
Check the Finances
Set the budget and finalize all the pricing deals beforehand. Don't make deals and plans on the go, as it could disturb the process, and you may need to make a huge overstep from your planned budget. Always set aside an additional budget for emergency purposes. You never know when you will have to deal with an unpredictable situation and pay up large amounts of money to fix it. You need to think about the cost of the materials, obtaining permits, paying your workers' salaries, the construction costs, and many more things. The budgeting aspect of it rarely, that is almost never, goes according to plan, so you will have to be ready to set aside an additional amount of money so that everything will take place without major deviations.
Everything we mentioned here should be checked and re-checked multiple times before breaking grounds on the construction. All of this data is crucial if you want to sleep peacefully while the whole process of building is actually taking place. It is a daunting task, but the whole investment and stress will pay off in the end if you do everything properly. Due to the high-risk factor, everything should be looked over with care and caution.