Decorating a home is an exciting prospect. You get to design a space that meets your needs and reflects your personality. However, it also brings in a thousand decisions. You have to choose the furniture, the furnishings, and the fixtures such as the lighting, the pull-down TV mount, etc.
Whether it is deciding your home's look from scratch or renovating your home, lighting plays a huge role in the final outcome. With proper lighting, even a small room can look spacious. On the other hand, the wrong choice of lighting can make even large spaces appear constricted and dark.
When it comes to small spaces, flush mount or semi-flush mount lights are an excellent choice. Learn more about what they are and how to choose the right ones for your home.
What Are Flush Mount and Semi-Flush Mount Lights? 
Flush mount lights are placed directly onto the ceiling with no gap between the light and the ceiling. It allows them to provide downward light without taking up too much space. Flush mount lights are versatile and can work in any space, but they are most effective in smaller spaces or those with lower ceilings that do not have enough room for hanging lights.
Semi-flush mount lights are similar to flush mount lights, with the only difference being that there is a small gap between the fixture and the ceiling. The gap allows for a beautiful shadow effect that elevates the lighting of any room.
You can include directional lighting in the list of flush mount and semi flush mount lights. The only difference is that directional light or spotlight focuses the light in one direction, whereas flush and semi-flush lights provide omnidirectional lighting.
How to Choose Flush Mount Lights
While flush mount lights are versatile and can suit any room, there are ways to select ones that best suit your needs depending on the style, size, wattage, etc. Here are some points to consider while selecting a flush mount light.
Style
The style of the flush mount light should match the style of the bedroom. Flush mount lights typically come in four styles – traditional, transitional, contemporary, and styled.
Traditional flush mount lights are ideal for bedrooms that have a vintage or rustic look. These lights often have bronze, brass, or iron tones or elements.
Transitional flush mount lights are ideal for spaces that have a combination of traditional and modern elements. Most of the transitional flush mount lights come in a bowl shape, although you can find other shapes as well. Since these are a combination of two styles, you get a lot of options in this style.
Contemporary flush mount lights are simple, elegant, and often minimalistic. These are ideal for the modern or contemporary bedroom.
Styled lights have an eclectic appeal. These lights come in a variety of themes and fit a specific kind of room. You need to be careful that the styled light does not clash with the other room's other elements.
Material
The material of the flush mount light will have an impact on its style and cost. Some of the common materials for the base are copper, stainless steel, chrome, plastic, and wood.
Copper and wood are great choices for traditional or rustic bedrooms. Chrome and stainless steel fit well in a transitional or even contemporary bedroom. Plastic can fit in any bedroom style since the material is versatile and comes in a range of colors and finishes.
The shade of flush mount lights can be glass, plastic, or crystal. Glass shades come in a variety of finishes, such as clear, frosted, stained, and etched. Plastic can offer similar finishes at a cheaper rate. Crystal shades create a more refined and elegant feeling in the room.
Cost
The cost of the light will depend on its material, size, and wattage. Plastic flush mount lights are cheap and durable. However, they might not have the same refined finish as the other materials. like crystal and copper, which can be expensive. The design of the flush mount light will also determine the cost.
Size
Selecting the right size of the flush mount light ensures that you get enough light in the room. If you get one that's too small, you won't have as much light as you'd like.  On the other hand, lights that are too big can look out of place in the space and make it unnecessarily bright.
There is a rule of thumb to help you determine the right size. Find the length and width of the room in feet. Add them up and convert the sum to inches. The result should be the approximate width of the flush mount light.
Wattage
The right wattage of the flush mount light is also crucial as it will play a role in determining the type of bulb you want to use. If you multiply the area of the room in square feet by 1.5, the result is the approximate wattage that you should aim for.
Bulb
The bulb that you use in the flush mount light determines the ambiance of the room. Bulbs that emit warm colors such as incandescent bulbs and warmer colored LEDs are ideal for bedrooms and living rooms. Bright white light such as the light from CFL, LED, and halogen bulbs are better suited for the kitchen and other workspaces.
Examples of Bedrooms With Flush and Semi-Flush Mount Lights
Here are a few different ways to use the flush mount and semi-flush mount lights in your bedroom.
Contemporary Bedroom With Copper Lights
This bedroom is a perfect example of why flush mount lights are ideal for small spaces. The copper light adds character to the room in addition to providing adequate lighting.
Rustic Bedroom With Transitional Light
The bowl-shaped flush mount light fits perfectly in this rustic-themed bedroom. It provides ample lighting without distracting from the other elements of the bedroom.
Traditional Bedroom With Traditional Flush Mount Light
The copper-toned flush mount light adds charm to this traditional bedroom. The copper-toned bed lamps complement the flush mount light and make the room seem more coherent.
Contemporary Bedroom With Semi Flush Mount Light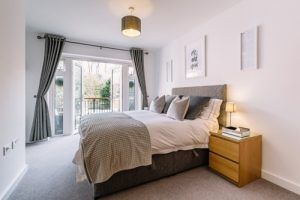 This contemporary bedroom has a high ceiling, making the semi-flush mount light the perfect choice.
Key Takeaways
Flush mount lights are an excellent choice for lighting up any space. They provide ample light without taking up too much space. They can even become the element of interest in a room with minimal decorations. Use the tips mentioned above to select one that fits your needs. Good luck!